Hotel Descriptions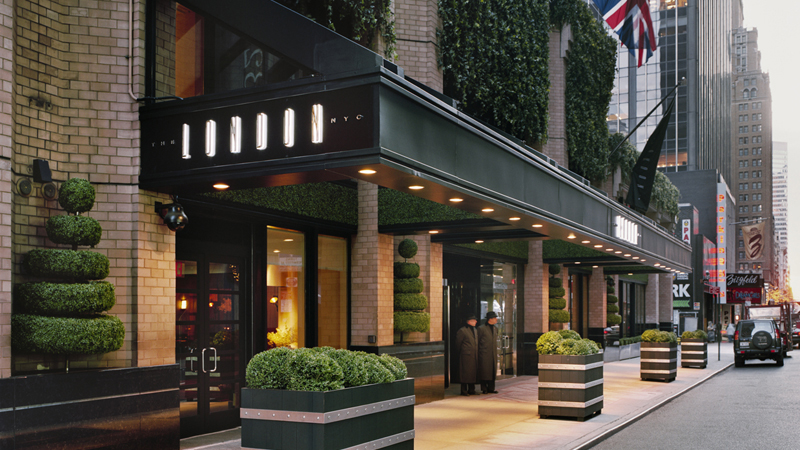 Conrad New York Midtown (Formerly, the London)
Amenity Chart Area Map
151 W 54th Street
New York, NY 10019
| | |
| --- | --- |
| Rates: | Single: $230.00 Double: $230.00 |

Distance to Conv. Center: 2.0 Miles Away

Situated in the heart of midtown Manhattan, The London NYC is surrounded by the best of New York City, yet located on a quiet side street. Just below Central Park, the hotel is an effortless walk to Central Park, Rockefeller Center, the Museum of Modern Art, Fifth Avenue shopping, the Theater District and Times Square. With a uniquely generous amount of livable space, the luxury hotel suites feature contemporary conveniences and either a North or South-facing vantage point for a quintessential New York City view. Other thoughtful amenities include one of the largest 24-hour hotel fitness clubs in Manhattan, in-suite dining, a 24-hour business center, and a superb concierge team that's pleased to bring the best of New York City to your attention.
---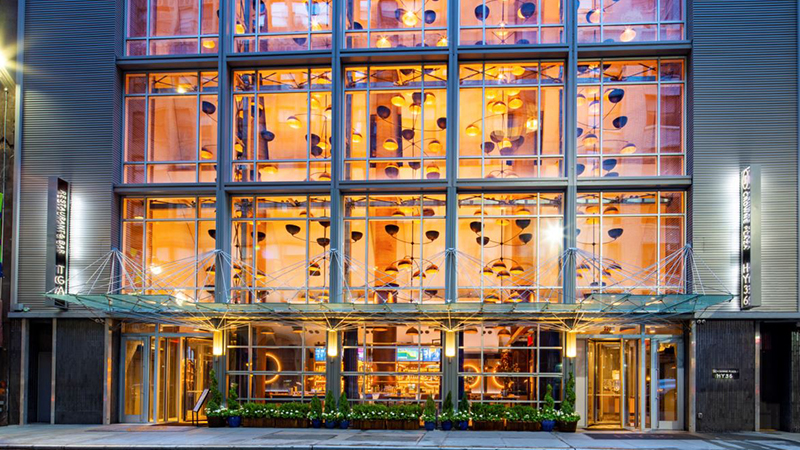 | | |
| --- | --- |
| Rates: | Single: $245.00 Double: $245.00 Dbl/Dbl: $265.00 Triple: $275.00 Quad: $285.00 |

Distance to Conv. Center: 0.5 Miles

Welcome to the brand new Crowne Plaza Midtown Manhattan! We are committed to providing a legendarily personable guest experience unlike any other in hospitality today and take immense pride in ensuring your experience with us here in the greatest city in the world is an unforgettable one. Our state of the art amenities include spacious spa like showers, spacious bathroom and guest rooms which are among st the largest per square footage in Manhattan paired with a heavenly sleep experience, a best in class workout studio and much more!
---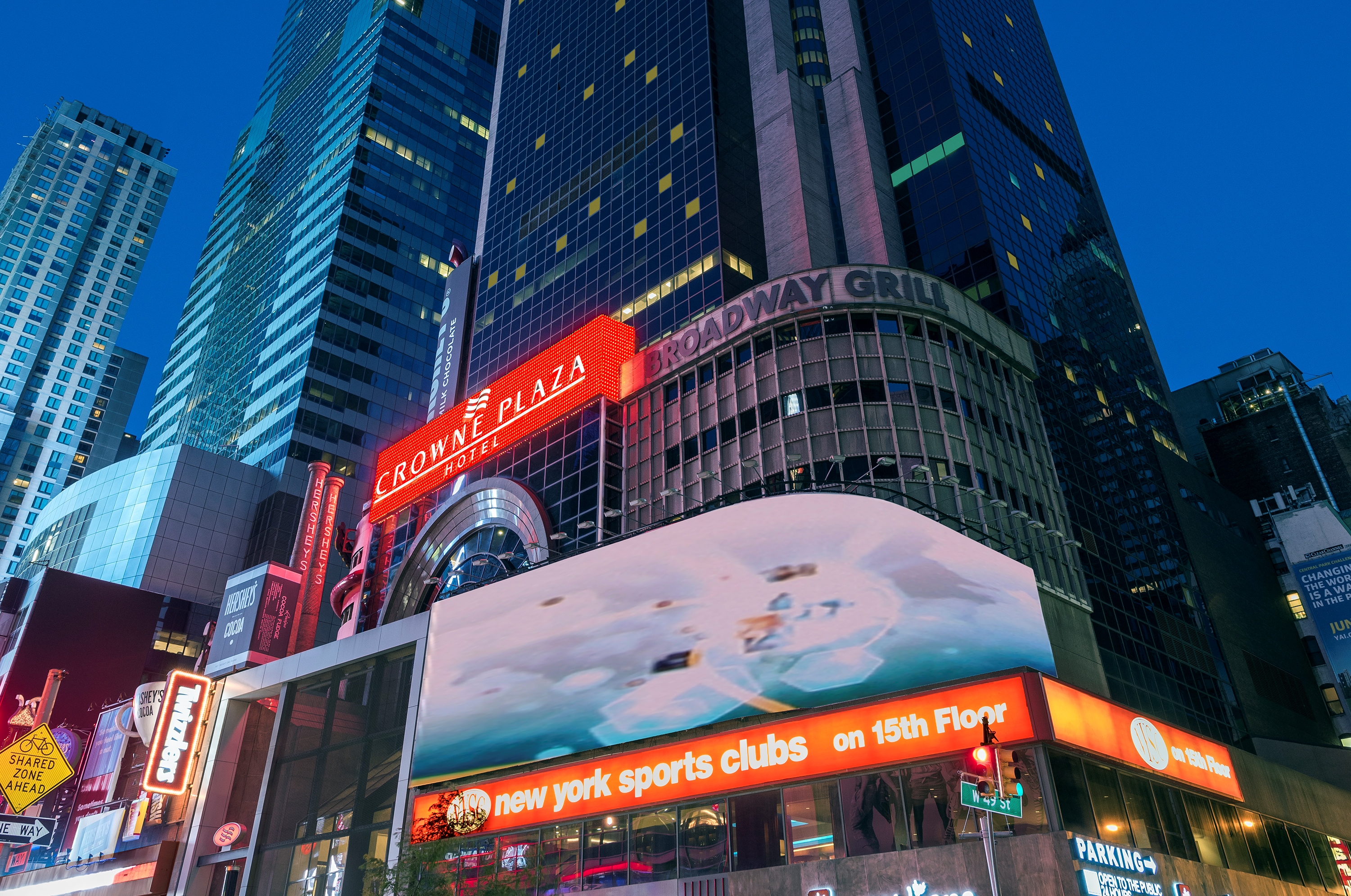 | | |
| --- | --- |
| Rates: | Single: $249.00 Double: $249.00 Dbl/Dbl: $259.00 Triple: $279.00 Quad: $299.00 |

Distance to Conv. Center: 0.9 Miles Away

Comp Standard WiFi, Premium Access $9.00 per day

Convenient access to an array of signature New York City attractions, including Broadway theaters, world-class restaurants, and a wide range of shops. Crowne Plaza's Broadway location is unmatched among hotels near the NYC Theater District. They are located just steps from multiple subway stations and countless NYC activities. The hotel is less than ten miles from La Guardia Airport and just blocks from the Lincoln Tunnel, Queens-Midtown Tunnel and Queensboro Bridge.

Enjoy breakfast (6:30 a.m. – 11:30 a.m.) or lunch (11:30 a.m. – 2:00 p.m.) at Brasserie 1605, looking out over the bright lights of Broadway and the bustle of Times Square. Relax, unwind and imbibe in Broadway 49 Bar & Lounge, a contemporary bar overlooking Times Square. Hours are Sunday & Monday from 11:30 a.m.–midnight and Tuesday-Saturday from 11:30 a.m.–12:30 a.m. with lunch and dinner menus, featuring refined takes on American classics.

Each of Crowne's rooms comes with an array of unique and convenient Times Square hotel amenities to ensure an easy, seamless and relaxing stay. State-of-the-art features match the tech-savvy city outside, while comforting bedding and upscale bath amenities offer a relaxing respite from the bustle of Times Square. Rooms include access to standard wireless High-Speed Internet, a HD TV with digital cable and OnDemand in-room movies, Templespa™ bath amenities, Cuisinart gourmet coffee machine, In-room safe (fits a laptop), multi-line direct dial phones with voicemail, individual climate controls, hair dryer and windows that open. Access to 25,00 square foot New York Sports Club fitness center.
---
| | |
| --- | --- |
| Rates: | Single: $229.00 Double: $229.00 Dbl/Dbl: $229.00 Triple: $249.00 Quad: $259.00 |

Distance to Conv. Center: 0.5 Miles Away

Comp Internet and American Breakfast Buffet, $35.95 daily savings, plus comp health club access

The DoubleTree by Hilton Hotel New York – Times Square South is located in the heart of midtown Manhattan, on 36th Street between Eighth and Ninth Avenues. If you're looking for hotels near the Theater District, this hotel is ideally placed.

Enjoy your warm DoubleTree cookie at check-in and let their helpful staff show you to your guest room. All accommodations feature bright, contemporary décor and premier amenities designed to make your stay as comfortable as possible. Feel at home in this room featuring our Sweet Dreams® by DoubleTree hypoallergenic down pillows. Relax watching the 42-inch TV with premium channels and On-Demand movies (fee applies). Work at the desk with ergonomic chair and keep in touch with complimentary WiFi. Refresh in the bathroom with enough vanity space to make yourself at home. The room also features a small refrigerator.

Maintain your fitness routine on the road in their large fitness center with modern equipment, including cardio machines and weights. Stay on top of work in the business center. Enjoy delicious food at this hotel's signature restaurant, Greenhouse 36, where you can dine on innovative cuisine in a contemporary setting.
---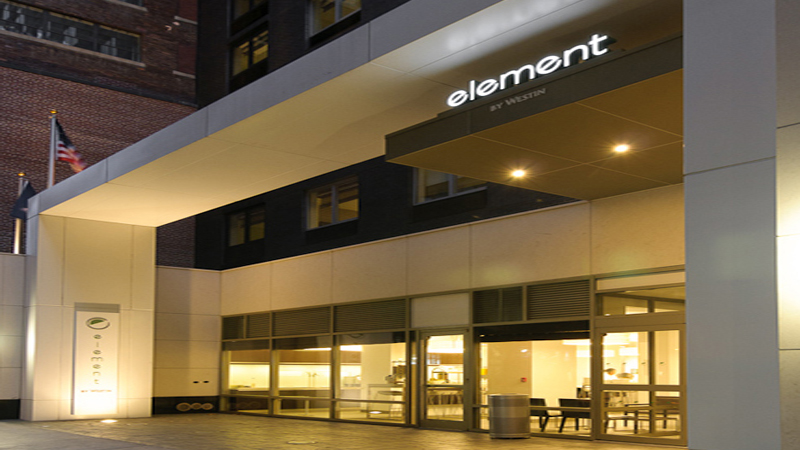 | | |
| --- | --- |
| Rates: | Single: $219.00 Double: $219.00 Dbl/Dbl: $239.00 Triple: $249.00 Quad: $269.00 |

Distance to Conv. Center: 0.6 Miles Away

Comp in room Internet access and Grab-N-Go Breakfast, daily

Located near 8th Avenue between 39th and 40th Streets, just steps from Times Square and many major subway lines, guests can easily reach every hot spot imaginable.

Dining options include free daily breakfast, healthy grab & go options in their gourmet pantry, and complimentary meal creations from MADE™ Chef Network. Stay on track with nourishing and delicious options at Rise, breakfast bar, or at Restore, 24 hour gourmet grab & go pantry. Pick up a snack on the run or the ingredients for an easy meal in your room, since each room has a fully-equipped kitchenette. Settle in and make new friends with other guests or gather with friends and family over complimentary hors d'oeuvres and beverage pairings Monday-Thursday from 6:00-7:30 p.m.

This eco-friendly Times Square hotel is fully devoted to helping the environment. Floors feature carpets made from 100% recycled content. Artwork is mounted on bases made from recycled tires. Low VOC (volatile organic compounds) paints improve indoor air quality for guests and team members. In the bathroom guests can choose between a half or full flush and wash up in a low-flow sink faucet.
---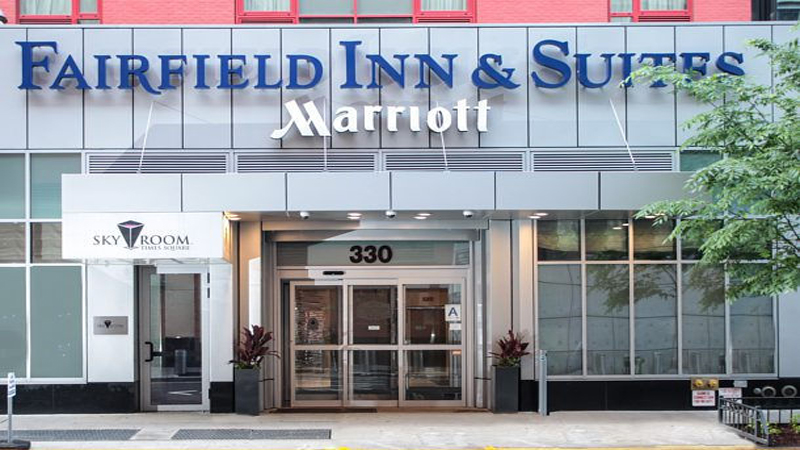 Fairfield Inn & Suites by Marriott-Times Square
Amenity Chart Area Map
330 West 40th St
New York, NY 10018
| | |
| --- | --- |
| Rates: | Single: $244.00 Double: $244.00 Dbl/Dbl: $264.00 Triple: $274.00 Quad: $284.00 |

Distance to Conv. Center: 0.5 Miles Away

Comp Internet and health club access

The Fairfield Inn & Suites New York Manhattan/Times Square welcomes you with a truly unparalleled location in the heart of Midtown. Madison Square Garden is moments away from their hotel doorstep, as is the Jacob K. Javits Convention Center and Bryant Park. Other storied New York landmarks, like Central Park, Rockefeller Center, and Broadway are within easy reach as well.

Occupying the 33rd and 34th floor of the Fairfield Inn & Suites Times Square by Marriott and the Four Points Times Square by Sheraton, the bi-level ultra lounge transports guests to a high energy oasis atop 40th Street and offers five distinct spaces: the North Terrace with its retractable roof, the South Terrace with its private cabanas, the Times Square Lounge, the Cube Balcony, and the Candlelight Lounge.

The North Terrace on the 34th floor provides a comfortable environment all year round with a fully retractable glass roof cover and panoramic glass walls, offering stunning views of the Times Square area. One standout highlight of the venue is the South Terrace on the top level, which features plush furniture and soothing ambient lighting amidst a lush landscape, set up to offer a luxurious space where guests can truly enjoy being in the heart of Manhattan, with views of the Hudson River and the Empire State Building.

Comfortable hotel rooms feature free Wi-Fi, plush bedding, and soundproof windows. Start your day with a free breakfast buffet, and end it with a drink at the hotel's rooftop bar, which offers great views of Times Square and the Midtown NYC skyline.
---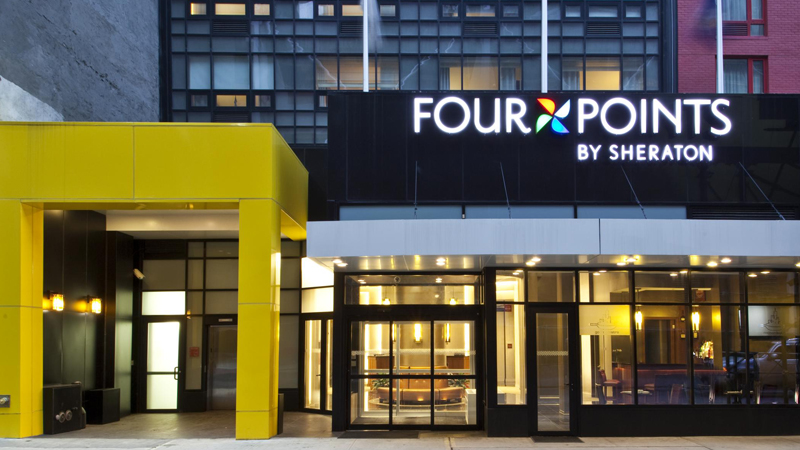 | | |
| --- | --- |
| Rates: | Single: $234.00 Double: $234.00 Dbl/Dbl: $254.00 Triple: $264.00 Quad: $274.00 |

Distance to Conv. Center: 0.5 Miles Away

Comp Internet and health club access

Stay close to the action in one of New York City's hippest neighborhoods. Where the heart of the action is just steps away, you won't need to go far to find a popular restaurant, theater, or gallery.

In addition to ideal surroundings, Four Points by Sheraton Midtown offers simple, uncluttered design in each guest room - plus every room in the house is non-smoking, to keep the air you breathe in a little clearer. Behind the hotel's sleek design is the same casual comfort and service you've come to expect from a Four Points by Sheraton hotel.

Get a great night's sleep in the Four Points by Sheraton Four Comfort Bed™, refresh with free bottled water daily and keep in touch with free High Speed Internet Access.

Find your own comfort zone in your own personal haven to relax, recharge and get comfortable after a long day. Have the freedom to choose how you'll relax: work out, watch TV while sipping your favorite beverage, enjoy comfort food with colleagues or new friends or read a book. Choose to kick back with a beer from the collection of the world's Best Brews(SM) at either the hotel's lounge, the Gotham Bistro, or their breathtaking Rooftop Bar. We understand. The best comforts in life aren't complicated.
---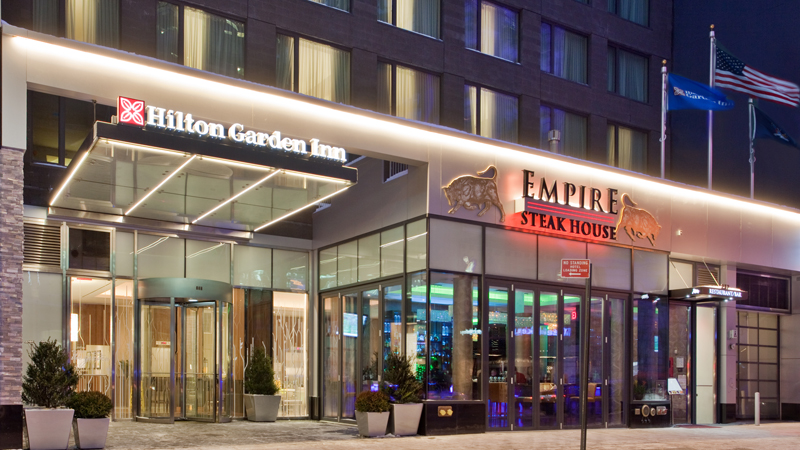 | | |
| --- | --- |
| Rates: | Single: $256.00 Double: $256.00 Dbl/Dbl: $276.00 Triple: $276.00 Quad: $276.00 |

Distance to Conv. Center: 1.1 Miles Away

Comp Internet and health club access

At the Hilton Garden Inn Central Park South, you'll be treated like a rock star. The hotel's stylish rooms and suites, unparalleled service and ample amenities like complimentary Wi-Fi, 24-hour fitness center, on-site dining and nightly room service provides your stardom treatment.

Their location rocks...literally! They're situated on the former site of The Hit Factory where Michael Jackson, Madonna and Bruce Springsteen recorded on many occasions. Equally melodic is the fact that you'll be right in the heart of Midtown Manhattan, within walking distance of such popular attractions as the Museum of Modern Art, Lincoln Center, Central Park and Broadway theatres. Getting yourself back home also requires very little orchestration as three international airports are nearby. Airport transportation is available. Private transportation or hourly shuttle from the hotel is offered.

Enjoy breakfast, lunch and dinner at Empire Steak House, the on-site Zagat-rated restaurant or order in via room service from 5pm -10pm.

The classic guestroom has a Perfect Sleeper Bed and a myriad of creature comforts. Discover a microwave, 42-inch flat-screen HDTV, laptop compatible safe and work desk with ergonomic Herman Miller chair.
---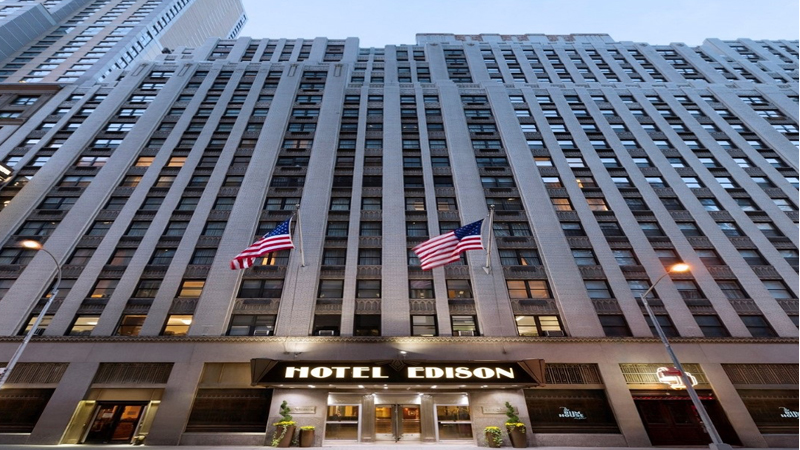 | | |
| --- | --- |
| Rates: | Single: $159.00 Double: $159.00 Dbl/Dbl: $179.00 Triple: $189.00 Quad: $199.00 |

Distance to Conv. Center: 1.2 Miles

Located just steps from Times Square and in close proximity to all of the best Broadway shows, Hotel Edison is the place to be for the ultimate New York City experience. Choose from over 800 guestrooms in our historic Art Deco hotel, from our comfortable (and affordable) Classic rooms to our expansive Signature rooms and suites, recently remodeled with special touches, such as kitchenettes and private terraces overlooking the New York City skyline.

Along with each Hotel Edison stay, guests receive 24-hour access to our brand new fitness center, well-equipped with cardio machines and TechnoGym strength training equipment, as well as an open invitation to our Edison Hour every Tuesday and Friday, featuring cocktails, hors d'oeuvres, and entertainment in the lobby. In addition, guests have the opportunity to attend Triumph Hotels complimentary walking tours throughout Manhattan's most unique neighborhoods.
---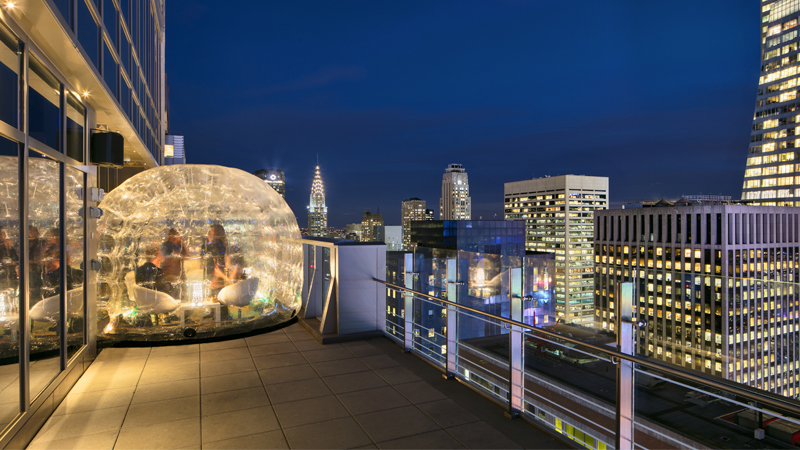 | | |
| --- | --- |
| Rates: | Single: $265.00 Double: $265.00 Dbl/Dbl: $265.00 Triple: $290.00 Quad: $315.00 |

Distance to Conv. Center: 1.0 Miles Away

Comp Internet, bottled water replenished daily and health club access

The Hyatt Centric Times Square New York is a centrally-located hotel that makes for an ideal home during your urban getaway. Our guests indulge in both coveted and covert local sights for an immersive take on Manhattan, from the nearby Theater District to the Museum of Modern Art (MoMA), and Radio City Music Hall. Enjoy memorable moments with the global cuisine at T45, or sip hand-crafted cocktails complemented by stunning views of New York at Bar 54.

Hyatt Centric Times Square New York boasts some of the largest guestrooms in the area, averaging 364 square feet. Enjoy a modern luxury experience at this Manhattan hotel in one of the 487 well-appointed rooms with magnificent floor-to-ceiling windows treating you to remarkable views. When it's time to rest after a day in the city, retreat to your inviting space, featuring a large flat-screen TV, refrigerator, rain shower and soaking tub with bath amenities from the hotel's Timeless - Marilyn Monroe™ Spa, Drybar Buttercup Blow-Dryers, Keurig in-room coffee brewing systems and JBL Wireless speakers.
---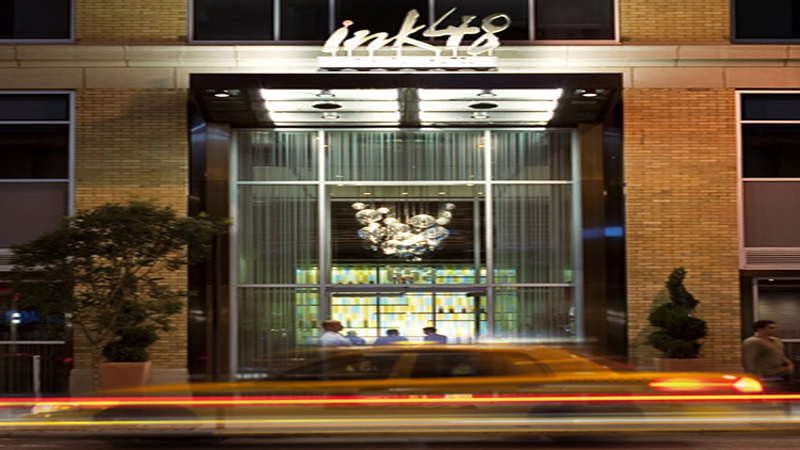 | | |
| --- | --- |
| Rates: | Single: $316.00 Double: $316.00 Dbl/Dbl: $316.00 Triple: $336.00 Quad: $356.00 |

Distance to Conv. Center: 0.6 Miles Away

Comp Internet and health club access

A Midtown Manhattan hotel that makes an impression with more than its stunning city views, Ink48, a New York City boutique hotel, is a statement as distinctive as the city itself. Kimpton lends its indelible mark on the Manhattan landscape with a sweeping Midtown hotel that pays homage to the city's literary scene, while treating guests to chic amenities worth penning a poem about.

Luxury hotel services and amenities combine with warm hospitality with impressive results at Ink48, a Kimpton Hotel in Midtown Manhattan. Make your personal mark at one of the top New York City hotels, whether you're motivated by the city's lively energy to get things done, inspired by the creativity that permeates New York or simply want to relax in a stylish urban oasis.

Take one of Kimpton's custom designed PUBLIC bikes for a ride around town or use your yoga mat in the privacy of your room to relax your mind and body. Enjoy a wine reception in their living room from 5 to 6 pm.

Ink's eco-friendly hotel spa on the second floor designed its treatments to make a pleasurable imprint on your health and well-being. Each of the spa's three private treatment rooms (including a couples' room and a Swiss shower room) is designed for total relaxation, reflecting the unique stamp of Ink48's style.

Complimentary high-speed WiFi on all devices throughout the hotel, exclusive offers and a $15 Raid the mini bar credit for Kimpton Karma Rewards members. Kimpton Karma Rewards
---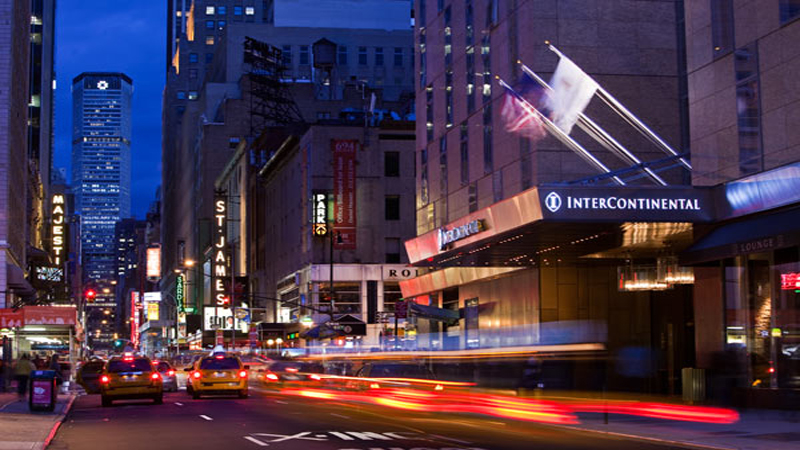 | | |
| --- | --- |
| Rates: | Single: $329.00 Double: $329.00 Dbl/Dbl: $329.00 |

Distance to Conv. Center: 0.7 Miles Away

Comp Internet and health club access

With a chic-Manhattan residential feel, the InterContinental New York is a refreshing sanctuary from the sights and sounds of NYC. Conveniently located at 44th Street and 8th Avenue, this New York hotel is within walking distance to the Broadway Theatre District, extraordinary shopping and fabulous restaurants including "Ça Va," the hotel's onsite French inspired bistro by Celebrity Chef Todd English.

Enjoy a luxurious guestroom with floor-to-ceiling windows offering stunning panoramic views of the Manhattan skyline, Hudson River and Broadway. Guests also enjoy large spa-inspired bathrooms with walk-in rain showers, Agraria® Bath Products, 42 inch HDTVs, Keurig® Coffee Maker, In-Room Safe, spacious Work Station and iPod Docking Station

The hotel is one of the most environmentally responsible New York City Times Square hotels and the largest new-build hotel to achieve LEED status on the Eastern Seaboard.
---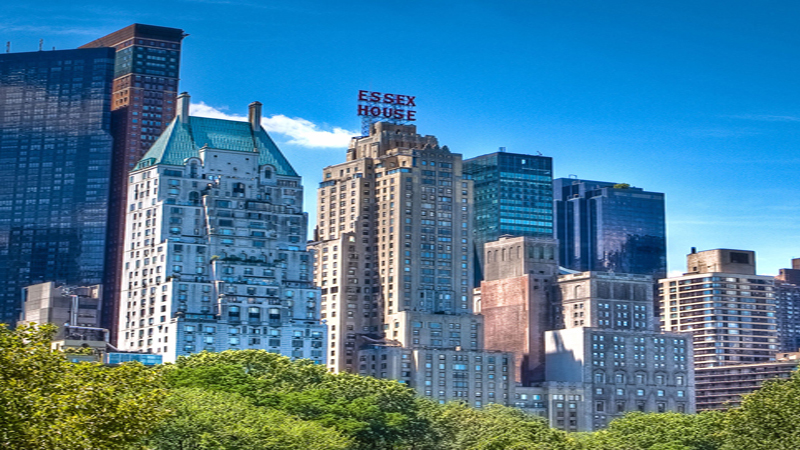 | | |
| --- | --- |
| Rates: | Single: $299.00 Double: $299.00 Dbl/Dbl: $299.00 Triple: $329.00 |

Distance to Conv. Center: 1.4 Miles Away

Comp Internet and health club access

The JW Marriott Essex House New York hotel near Central Park has served as an iconic New York hotel for years, and has delivered exceptional experiences since opening its doors in 1931. The inspiring location is in the cultural heart of New York City; Lincoln Center, Carnegie Hall, Columbus Circle, the Theater District and world-class shopping along 5th Avenue are all within a few minutes stroll.

Hotel is walking distance (.3 mi/6 min) to route 1 shuttle stop at Le Parker, 57th Street entrance
---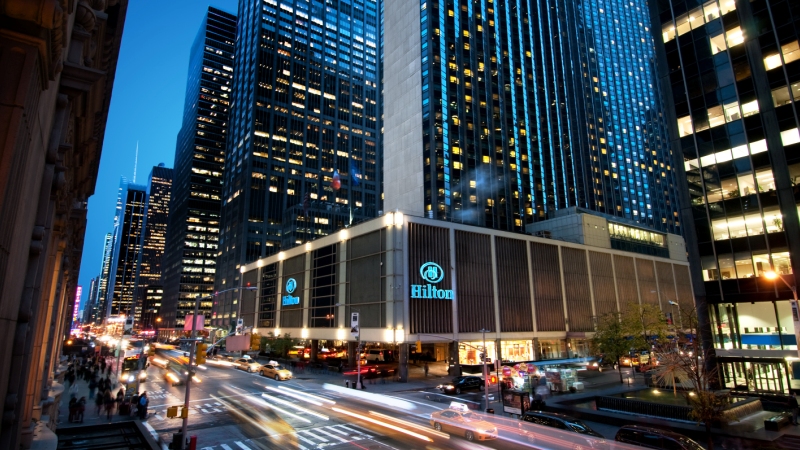 | | |
| --- | --- |
| Rates: | Single: $249.00 Double: $249.00 Dbl/Dbl: $249.00 Triple: $274.00 Quad: $299.00 |

Distance to Conv. Center: 1.3 Miles Away

Comp Internet and health club access

New York Hilton Midtown is conveniently located in the heart of Midtown Manhattan, just steps away from New York City's most popular attractions and shopping destinations. This Midtown Manhattan hotel offers a wealth of services and amenities and an intimate experience.

Spacious and stylish guest rooms include all necessities for an unforgettable stay. All guest rooms feature marble baths, in-room thermostat control, 37 inch HD television with HD channels and guide, on-demand HD entertainment, spacious work area, and two telephones with voicemail.

Enjoy a full selection of hot and cold breakfast items prepared in Bridges Bar. Return later for your favorite cocktail or visit the Lobby Lounge, where lunch and dinner are also served. Stay active during your stay in the hotel's 8,000 sq. ft. fitness center featuring modern strength, cardio and entertainment equipment, a Kinesis wall and resistance weights.
---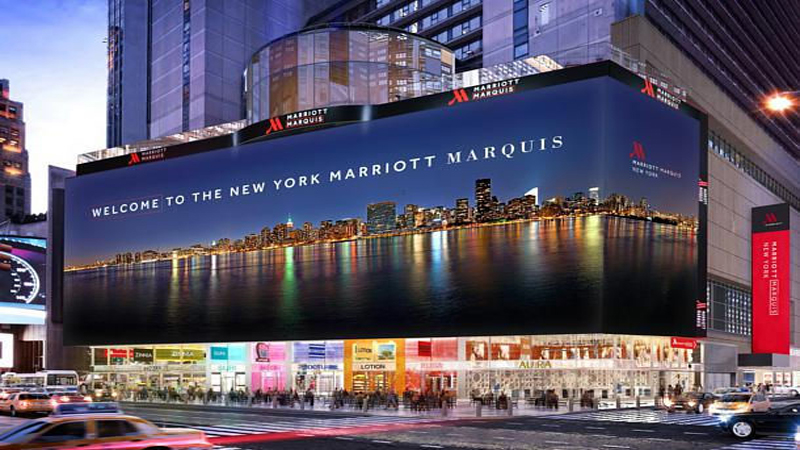 | | |
| --- | --- |
| Rates: | Single: $323.00 Double: $323.00 Dbl/Dbl: $323.00 Triple: $343.00 |

Distance to Conv. Center: 0.9 Miles Away

Complimentary 24/7 Fitness Center access

Surround yourself with the sights and sounds of the city at New York Marriott Marquis. Get relaxed and energized simultaneously as you step into some of the largest guest rooms in NYC, amid the hustle and bustle of famed Broadway.

The tranquility of the spaciousness of your standard 430 sq. ft. guest room combined with the sound sleep you'll get on the feather bed mattress, topped with Marriott bedding and fluffy pillows, will make you feel thoroughly rested and ready to tackle your day. Or maybe you prefer viewing the magic of the heart of the city by selecting a Times Square View guest room. Need a little more wiggle room? Then the spacious 460 sq. ft. Executive Corner King guest room is for you. Which ever room you decide to spend your New York City experience in will be adorned with elegant touches of granite countertops and deluxe bath amenities making you feel at home. Stay connected with high-speed Internet access in your room, or free Wi-Fi in the lobby.

Enjoy a meal at their signature revolving restaurant, aptly named The View for its rooftop location and picturesque city vistas.

Their 24-hour fitness center features all-new Life Fitness machines! Now with over 40 ways to customize your routine, including cross trainers, recumbent bikes, treadmills and a full selection of strength training equipment, there is no need to wait for your machine. At 4,000 square feet, experience New York City's largest hotel fitness center exclusively for hotel guests!

Marriott Rewards members enjoy complimentary in-room Internet. Join Marriott Rewards®.
---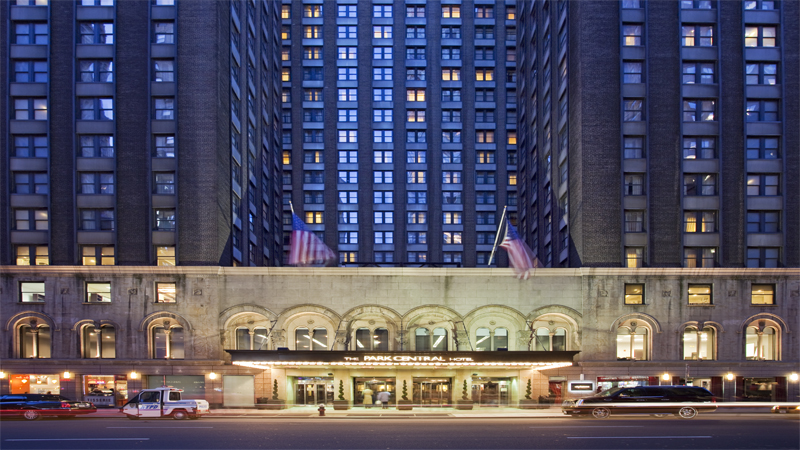 | | |
| --- | --- |
| Rates: | Single: $135.00 Double: $135.00 Dbl/Dbl: $135.00 Triple: $145.00 Quad: $155.00 |

Distance to Conv. Center: 1.2 Miles Away

Comp Internet and health club access

Guests enter the hotel at Seventh Avenue through a gracious porte-cochere. Adjacent to the revolving doors at the main entrance are double wide swinging doors which together open to 70" wide. Built during The Roaring Twenties, the Park Central Hotel New York once accommodated and entertained some of the most influential figures of the day – from Jackie Gleason and Mae West to Glenn Miller and Tommy Dorsey, even First Lady Eleanor Roosevelt. Today's guests are invited to escape the busy city life in exchange for the serenity that awaits them - newly renovated and inspired by the iconic Central Park and renowned New York City landmarks.

The mix of exciting amenities pays homage to a glamorous past, while presenting a modern spin on the hotel's electrifying environment. Guests will delight in escaping the hectic city life to bask in the stylish Park Central New York. Beautifully-appointed, smoke-free Guest Rooms and Baths. Little touches that keep you comfortable when you're away from home are at your fingertips; iDoc mp3 Docking Station, C.O. Bigelow® bath amenities, 46" Samsung LED full HD television, direct-dial speakerphones with private voicemail, writing desk, iron and ironing board, hairdryers, in-room safe, spacious bathroom and On-demand Movies.

Central Market, a fine foods grab-and-go located in the lobby, offers a selection of fresh and flavorful bites from local New York vendors such as Nespresso and Amy's Bread. Hours of Operation are 6:30 AM – 10:00 PM.

Park Kitchen features an inviting lounge with two large communal tables, as well as an elegant dining area. Designed by Jeffrey Beers International, this beautifully designed space in the Park Central hotel presents a distillation of both new and traditional cocktail lounge.
---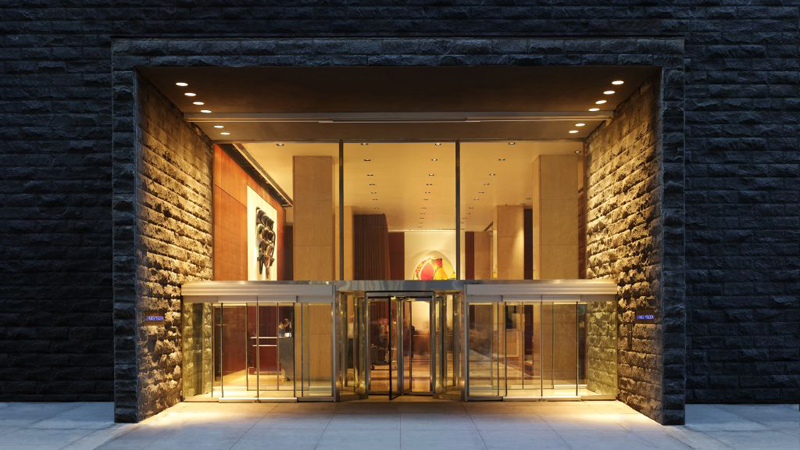 | | |
| --- | --- |
| Rates: | Single: $239.00 Double: $239.00 Dbl/Dbl: $239.00 Triple: $269.00 Quad: $299.00 |

Distance to Conv. Center: 1.3 Miles Away

Located in the heart of it all on West 56th street between Avenue of the Americas and Seventh Avenue in a quieter part of town. Just two blocks from Central Park. Walking distance to the Museum of Modern Art, Carnegie Hall, Broadway theaters and Fifth Avenue's famous shops. Only 2 miles to the Javits Convention Center.

GOOD EATS! Norma's voted best breakfast in New York, Knave Espresso bar serving coffee and not opposed to serving that marvelous Manhattan! And our famous burger joint located behind a curtain amid an exposed-brick wall with celebrity signatures always voted in the top 5 burger places in New York City. Plus 24 hour room service.

PHYSICAL LETS GET PHYSICAL: In our award winning 15,000 square foot health and fitness center called gravity complete with indoor rooftop pool. Or tamper yourself at one of our 6 spa treatment rooms at our Moonshine Spa for facial or massage, tenoverten for manicure/pedicure, Drybar for a blowout, Blushington beauty and makeup lounge or Skin Laundry for laser treatments.

All oversized rooms give you plenty of space to lounge, work or just escape from the hustle and bustle of NYC. Each features an expansive workspace with Aeron® desk chair with a window, 46" Samsung HD flat screen television, climate control, three phones (one portable), voicemail, speaker phone and in-room safe and bathtub/shower combination. Central Parkview rooms and suites are available.
---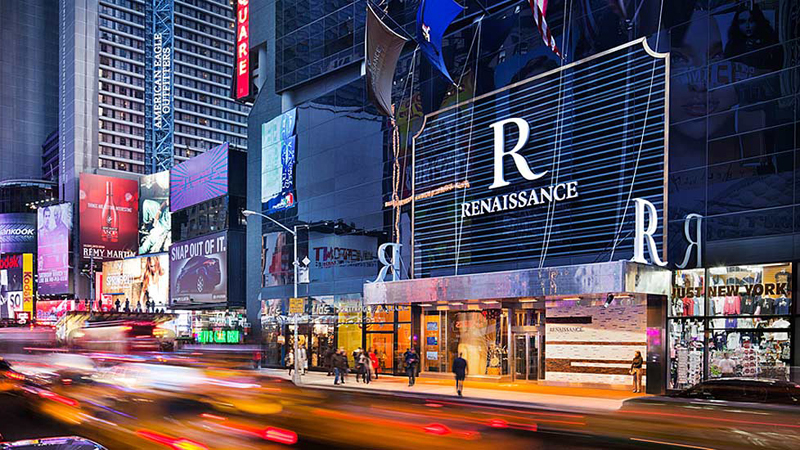 Renaissance Times Square
Amenity Chart Area Map
Two Times Square 714 Seventh Avenue At W 48th Street
New York, NY 10036
| | |
| --- | --- |
| Rates: | Single: $321.50 Double: $321.50 Dbl/Dbl: $321.50 Triple: $351.50 |

Distance to Conv. Center: 1.0 Miles Away

Comp health club access

Rising 26 stories above Times Square, this luxury hotel has the soul of a boutique hotel with beautifully crafted interiors by renowned designer Jordan Mozer. The hotel in has a AAA Four-Diamond rating and a prime location on Broadway and Seventh.

Distinct among Times Square hotels in New York, Renaissance boasts stylish guest rooms with hardwood furniture, luxurious bathrooms and state-of-the-art technology. Stay entertained with flat-panel HDTVs and plug-in connectivity panels. Luxurious bedding and organic Aveda products let you relax.

Enjoy a cocktail and snack at R Lounge, their on-site restaurant, before venturing out to Rockefeller Center or the famous Theater District. An inspired destination, the lounge features fare crafted by famed chefs Bruce and Eric Bromberg. Open for lunch and dinner

Start your day on the right foot at VIVID Lounge, which offers an expansive breakfast buffet and a variety of irresistible a la carte options. Located in the hotel's main lobby, breakfast is served daily from 6:30 to 11 a.m.
---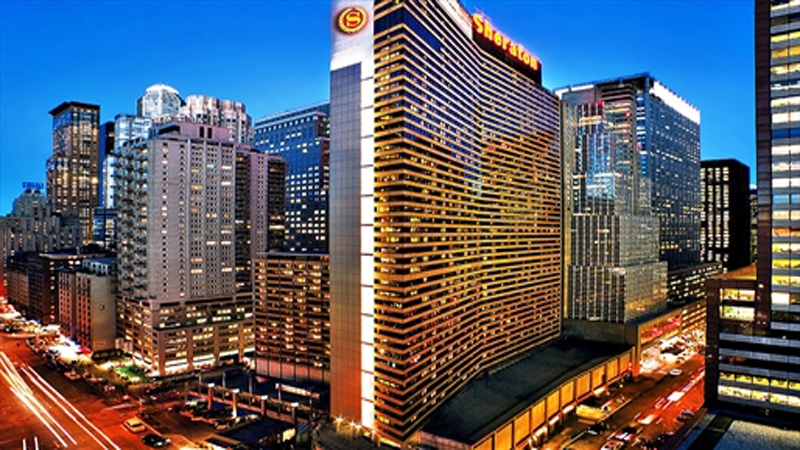 | | |
| --- | --- |
| Rates: | Single: $299.00 Double: $299.00 Dbl/Dbl: $299.00 Triple: $329.00 Quad: $329.00 |

Distance to Conv. Center: 1.1 Miles Away

Comp Internet for SPG members

A $180 million renovation has reinvigorated the Sheraton New York Times Square Hotel, between Central Park and Times Square in the Midtown business and entertainment district. Enjoy a good burger at Bistro. The chef's unique beef blend is ground daily from hand-selected USDA Prime Angus cattle; brioche buns are baked fresh every day; and a variety of toppings will have to be seen to be believed. They also serve your favorite sides and drinks, such as disco fries, tater tots, desserts, shakes, floats, cane sodas, craft beers, and wine.
---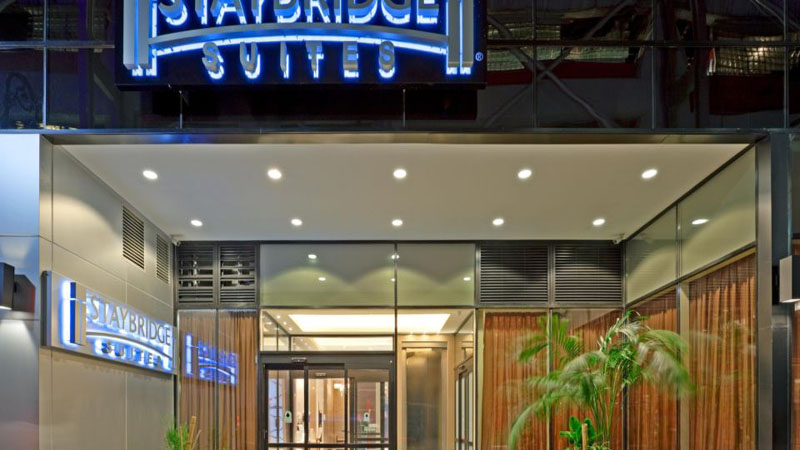 | | |
| --- | --- |
| Rates: | Single: $199.00 Double: $199.00 Dbl/Dbl: $239.00 Triple: $259.00 Quad: $279.00 |

Distance to Conv. Center: 0.5 Miles Away

Complimentary full buffet breakfast daily, Internet, health club access, Social Reception 5-7 p.m. Tuesday, Wednesday, & Thursday and local & toll free calls

Boasting an ideal location and cool design, the Staybridge Suites® Times Square - New York City hotel is a sleek, modern extended-stay hotel that's perfect for all travelers visiting Manhattan. Leisure travelers enjoy being so close to Times Square, and Broadway theatres, Restaurant Row and Bryant Park are just a few blocks away! As one of the closest hotels, it's an easy walk to the Jacob Javits Convention Center.

After you've explored New York City, the hotel's studio suites, featuring pillowtop mattresses, welcome you to a restful night in the midst of this vibrant city. Take advantage of the complimentary evening receptions and stay on top of your exercise routine with a 24-hour Fitness Center that features Cybex equipment with personal TVs. You can stay connected with the free high-speed, wireless Internet access throughout the entire hotel. Book yourself an extended stay or a single night at the Staybridge Suites® Times Square - New York City hotel and enjoy the comforts of home.

"Bar Forty" Times Square's newest bar. A mainstay! Unwind with premium libations after a busy day in view of a cascading waterfall. Located off the main lobby, the lounge offers club ambiance and contemporary music, an elegant bar and plentiful seating.

Each suite has an equipped kitchen with a stove, microwave oven, toaster, refrigerator and icemaker, dishwasher, pots/pans/serving dishes, plates, glassware and silverware.
---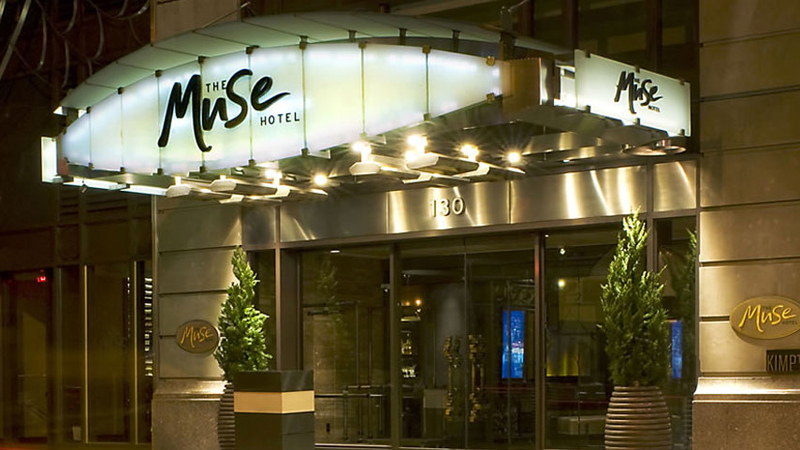 | | |
| --- | --- |
| Rates: | Single: $239.00 Double: $239.00 Dbl/Dbl: $259.00 Triple: $259.00 Quad: $259.00 |

Distance to Conv. Center: 1.0 Miles Away

Comp Internet and health club access

There's so much happening in New York City outside The Muse doors - the electrifying theater scene, the hustle of Times Square, the shopping, the lights and the go-go-go. The 200-room boutique oasis gives you access to it all, plus uplifting ways to have fun and unwind.

Instantly, you'll experience their genuine and caring way of making you feel at home. Their lively side comes out to play in the adjacent restaurant, NIOS, where regionally influenced food, wine and sparking conversation flow. Guestrooms are sinfully spacious by New York standards and whisper relaxation with artwork that nods to mythology. Get lost in the soothing color palette of cream, light blue and black. Grab a healthy snack from the mini bar. Sink into sumptuous down feather beds or get centered with in-room yoga and Pilates TV programs.

Every day from 5-6 p.m. amid the hustle and bustle of nearby Times Square, they pour guests a featured red or white wine in the living room lobby. Gather around for sips and sparkling conversation with your fellow travelers. It's a Kimpton hotels tradition and their way of saying, "We're glad you're here."
---
| | |
| --- | --- |
| Rates: | Single: $159.00 Double: $159.00 Dbl/Dbl: $159.00 Triple: $179.00 Quad: $199.00 |

Distance to Conv. Center: 0.6 Miles Away

Comp Internet and 24 hour fitness center access access

The New Yorker A Wyndham Hotel emerges as New York City's newest re-imagined historic hotel, just steps from steps From Madison Square Garden and Penn Station.

Whether you are enjoying cocktails and dinner at two on-site restaurants, sending photos of the Flatiron Building home via free Wi-Fi Internet access, enjoying a workout at the 24-hour fitness center or catching up on work in the 24-hour business center, find everything you need at this cosmopolitan, Art Deco-style midtown Manhattan hotel.

Each room has been designed with ultimate style and functionality in mind. Delight in a flat-screen HDTV, premium linens, free Wi-Fi Internet, and Keurig coffee maker. Newly redesigned guest rooms feature a soothing color palate, espresso coffee maker, ergonomic work station and a stunning Art Deco-style bathroom with sleek fixtures and rainforest showerhead.
---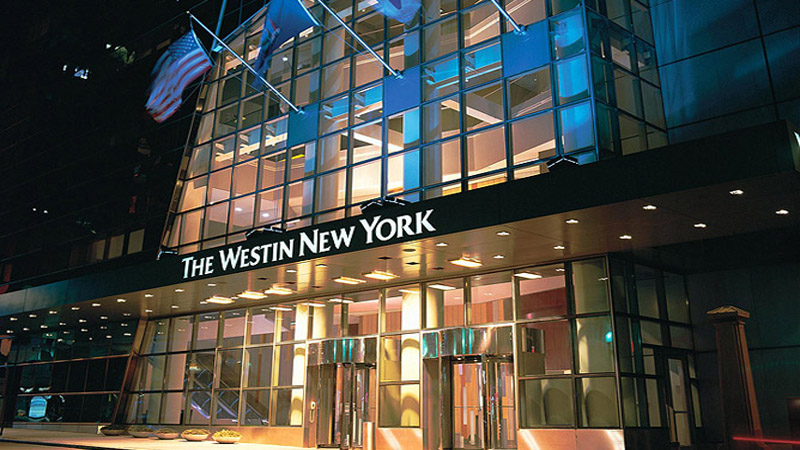 | | |
| --- | --- |
| Rates: | Single: $329.00 Double: $329.00 Dbl/Dbl: $329.00 Triple: $339.00 Quad: $349.00 |

Distance to Conv. Center: 0.7 Miles Away

Comp Internet access and 10% discount off at the Foundry Kitchen & Bar with NRF badge

The Westin New York at Times Square stands at the crossroads of the world - at the corner of 43rd Street and 8th Avenue. New York City Mayor, Michael Bloomberg, described the hotel as a key component of "the renaissance of the Times Square area."

Guests can dine in the famed Shula's Steak House, shape up in the WestinWORKOUT® Gym, or stroll from the lobby into E Walk®, a 200,000 sq. ft. retail, dining and entertainment complex. It's all here.

Whether you are ready for an invigorating workout in our fitness center, an indulgent meal at Shula's Steak House, or a refreshing cocktail at our Bar 10, you will find many thoughtful opportunities to recharge and renew during your stay.Slip into a cozy terry cloth robe, plug your iPod into the provided speakers, and sink back into the bliss of our Heavenly® Bed.

Discover rooms with a soothing color palette and spectacular views of the New York City skyline, Empire State Building and the Hudson River. Note the personal touches, like the custom-designed terry bathrobe. Experience a rejuvenated transformation when you awake in Westin's Heavenly Bed® or step from Westin's Heavenly Bath®. All guestrooms feature the brand's signature eco-friendly materials such as energy-conserving LED and CFL lights, water conserving low flow plumbing and recycle-able carpet pads, energy efficient thermostats, low VOC finishes for casegoods and GreenGuard certified solar shades.
---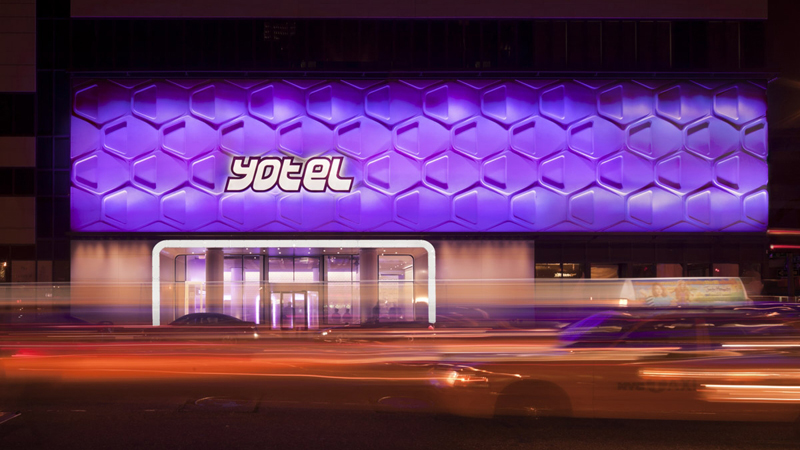 | | |
| --- | --- |
| Rates: | Single: $119.00 Double: $119.00 |

Distance to Conv. Center: 0.4 Miles Away

Comp Internet, gym access

A first-class hotel experience at a great value price just two blocks west of Times Square and steps from the Jacob Javits Center. YOTEL features an expansive fourth-floor space that includes New York's largest outdoor terrace, bars, lounge areas, the East & West restaurant, meeting spaces, and gym.

The rooms are perfectly formed and intuitively designed to place an array of amenities at your fingertips. Quiet air conditioning units, SmartBeds featuring Serta(r) mattresses exclusively designed for YOTEL and extra storage space offer a smartly arranged escape from the bustle of the city outside.

The hotel's uniquely affordable luxury extends to every element of the YOTEL New York experience. Savor free muffins, coffee and tea on floor FOUR each morning as well as complimentary super-strength Wi-Fi throughout the premises.
---